Websites That Work Harder
Digital Acla builds affordable and usable Web sites for small and medium-sized businesses, both here in Ireland and globally. We combine three core elements to create Web sites that work harder for our clients:
Fast, accessible Web site design
Most users seek information, not entertainment, from a Web site. We design fast loading, usable Web sites that allow more users to access the information they need more efficiently.
Read more on our Web design services
Crisp, purposeful copywriting
Our copywriter has a wealth of experience of writing effective and targeted copy for a range of audiences, including copy optimised to help boost your site's search engine performance.
Read more about our copywriting services
Search engine marketing (SEM)
Four out of five visitors to your Web site will find it through a search engine. We incorporate search engine optimisation (SEO) techniques into your Web site design from the outset.
Read about our search engine marketing services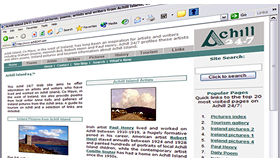 Contact Digital Acla | Visit Achill Island | Cycle the Wild Atlantic Greenway