Search Engine Marketing
We incorporate search engine optimisation (SEO) techniques in all our new Web sites, starting with keyword research on the search queries relevant to your market. This helps ensure that your site is working as hard as possible to attract targeted traffic.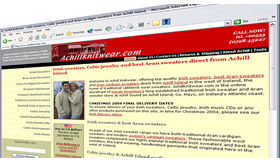 Search engine optimisation (SEO) refers to the process of ensuring that a Web site ranks as highly as possible on the search engines for a specific set of targeted keywords and phrases. For Digital Acla, this process begins with research of the optimum keywords that will generate the most relevant search traffic for a client site. These keywords are then incorporated into the copy for each page and into the page structure at key locations. It is also necessary to ensure that a site design can be indexed easily by the search engine spiders. Finally the process involves submission of the site to the major directories (no need to submit to the search engines - the important ones will pick up your links from the major directories).
It should be emphasised here that Digital Acla deals primarily with 'on-page', content-based SEO for sites that we also design and build. Unfortunately the wider SEO industry has courted some controversy due mainly to off-page technical practices such as domain cloaking, doorway pages, domain spamming and sneaky redirects, as well as on-page trickery such as hidden text and/or hidden links. Our belief is that well-researched, straightforward, content-based SEO will yield long-term results without putting our clients at risk of a ban or punitive action from the search engines.
It is often said that 'anyone could do SEO' or that D-I-Y is far cheaper than paying a professional. Personally I think if someone has the time and inclination to research the subject, then good luck to them in their SEO projects. And if you're one of those people, here's two sites that contain almost everything you will need to know:
Keyword research is crucial for a successful SEO project. The online tools at Wordtracker will identify precisely which keywords and phrases to use in your page copy to attract the most relevant, targeted search engine traffic to your Web site. The difference between optimising for the phrase 'widgets red' as opposed to 'red widgets', to take an unlikely example, could be a doubling or tripling of traffic. The experience that convinced me of this came when Wordtracker research pointed out an eight-fold difference in likely traffic between two different arrangements of similar terms.
95% of search engine traffic to your Web site will come from just three search engines. Between them, Google, Yahoo! and MSN control the vast majority of search engine traffic. The Open directory is significant not for direct referrals but for its importance in providing directory results to many other search engines, including Google.
The Web seems to be full of advertisements for software that will 'submit your site to 1500 search engines', or something similar. The item above shows that almost all your search engine traffic will come from just eight sources, so what benefit is there in submitting to thousands of others? In fact, the majority of these 'search engines' are merely FFA ('free for all') link farms which exist solely to harvest lists of email addresses from webmasters submitting their sites. The only thing many such programmes will generate is an inbox full of unsolicited email. This is not to say that some of the better software doesn't have other SEO features and benefits - just that automatic submission is not one of them.
For many of the search engines listed above, and certainly for the directories, submission of your Web site can only be done 'by hand'. And resubmitting to these search engines does no good either - once you are in their index, they will automatically respider your site at regular intervals anyway.
While it is not possible to buy your way to the top of a search engine's rankings for a given keyword, it is possible to buy your way to the top of a search engine's results page for that keyword. It is possible to purchase adverts that will appear directly above or to the side of the search results listings, using a Pay-Per-Click (PPC) programme. Both Google and Yahoo!, two of the three ruling search engines, offer their own PPC programmes. Google's AdWords system inserts text adverts in a column on the right of the search engine results page (SERPs), and sometimes also across the top of the page. Yahoo! owns its own PPC service, Overture, that also provides PPC results to a wide network of partner sites including, at the moment, the MSN results pages.
Pay Per Click advertising can be a very cost effective method of online marketing - it can certainly provide a very clear and emphatic set of figures for calculating your return on investment (ROI). The good news is that within a short space of time, a Web site owner should be able to master the basics of PPC and manage their own campaigns. The bad news is that for competitive keyword markets, it may take a much higher level of experience and knowledge to maintain a good ROI from a PPC campaign. In such cases, and assuming you have a respectable budget to spend, we would advise on looking at a professional agency to manage your PPC campaigns.
If the goal of SEO is to achieve high search engine rankings for a chosen set of keywords, then the ultimate measure of success is a number one placing, right? Wrong. The ultimate measure of success should be the amount of qualified, relevant referrals to your site. Put yourself in the position of a prospective customer looking for a product. Confronted with the first page of results from a search engine, would a genuine prospect really just click on the first listing and buy from it, without comparing the price and service from the second, third or even fourth listing?
It is more important that your site appears 'above the fold' in the search engine results with an appealing title and description, than simply to occupy top spot - particularly if this was accomplished with a 'spammy' title and description that doesn't encourage click-through by customers. By 'above the fold' I refer to the listings that are visible in the initial window of results, without scrolling. Depending on variables such as user screen resolution and window size, or the number of advertisements at the top of the listings, this could be anything from second to sixth place.
Digital Acla provides search engine optimisation as an integral part of our Web site design and build services. For us, it is an essential part of the process of building a Web strategy that works harder for your business. However, if you have an existing Web site that is not performing well enough in the organic search engine results, or you require advice on Pay Per Click marketing, you may need to consult a specialist SEM agency: