Copywriting for the Web
Digital Acla offers extensive experience of writing effective and targeted copy for clients ranging from blue chip corporations to small local businesses. This includes Web site copy that is optimised for the search engines.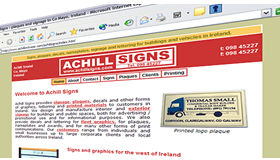 Web site visitors want information, not entertainment. Research published in September 2001 found that 59% of retail shoppers wanted more product information from Web sites (Source: Jupiter Media Metrix). This means that Web site owners should concentrate on content rather than style, on words on the page rather than flashy, gimmicky design. A good amount of well-written product information will work much harder at selling your messages than fancy graphics and rich-media effects - and that's before you even start with sales-oriented copy.
Good sales copy sells the benefits, not the features, of a product or service. This is what marketers mean by phrases such as 'sell the sizzle, not the sausage', and 'customers want holes, not spades'. This is as true for Web sales copy as for direct mail or other formats. An experienced and skilled copywriter should be able to take this principle and write compelling Web copy to promote your products and services online.
The bonus with the Web is that any call-to-action can be direct and immediate - 'click here to buy now' - as long as the copy and presentation is sufficiently compelling to motivate the desired response.
Reading on the Web is a fundamentally different activity to reading from printed material. 79% of Web users scan a page rather than reading it word-for-word (Source: Sun Microsystems). Reading from a computer screen is also 25% slower than reading from print.
This means that writing for the Web needs to be different to writing for print media. Web copy should be concise and logically ordered, making use of short paragraphs and simple sentence structure. Titles should be descriptive rather than whimsical (think Wall Street Journal rather than British tabloid headlines). Culture-specific references should be minimised if a site is to appeal to a global audience, and references to time need to be absolute (e.g. 'April 2008') rather than relative ('last month').
Four out of five visitors will typically find a Web site via a search engine. The search engines themselves will find and rank a Web site largely on the basis of the words on its pages (and their positioning). Writing copy for the search engines is a case of balancing the requirements of the search engine spiders with the needs of real world Web site users. As with most skills, it is one that benefits from experience and continued research - practises for which Digital Acla has a proven track record.
These are some of the books on copywriting, and specifically copywriting for the Web, that we use and like:

The Online Copywriter's Handbook: Everything You Need to Know to Write Electronic Copy That Sells
By Robert W. Bly

Net Words: Creating High-impact Online Copy
By Nick Usborne