Portfolio of Web Sites
Digital Acla builds effective, affordable Web sites for small and medium sized businesses, both here in Ireland and worldwide. We combine Web design, copywriting and search engine marketing to make Web sites that work harder for our clients.
Scroll down to view details of selected client sites: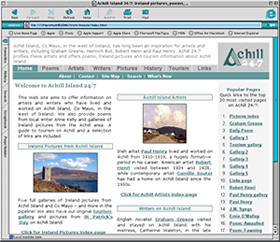 Achill Island 24/7
A personal project that highlights the tradition of creativity on Achill Island, my home.
An information-rich site for which ease of navigation is paramount. A site search facility and clear site map assist the prominent navigation bar, with in-text links further directing users to pages of interest. The fluid design allows the site to resize according to the user's window preference. Enhanced line spacing allows for easier reading of lengthy essays. A useful non-commercial property for experimenting with search engine optimisation techniques, this site currently attracts about 7,000 visitors a month.
Visit: www.achill247.com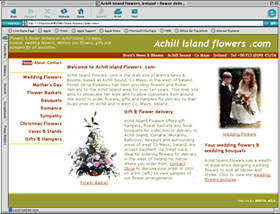 Achill Island Flowers
A promotional site to showcase the work of local florist Olivia Sweeney. Allows people worldwide to send flowers and gifts to their loved ones in the Achill area.
While the local market for a florist on Achill Island is somewhat limited, by using the reach of the Internet this business is able to attract orders from emigrants, family and friends for delivery to their loved ones in the Achill area. This site features a bright, colourful design with a fluid layout that scales to fit the users' window size. All product photography was provided by Digital Acla. Excellent performance in the search engines has resulted in regular Web inquiries and orders, including lucrative commissions for wedding flowers.
Visit: www.achillislandflowers.com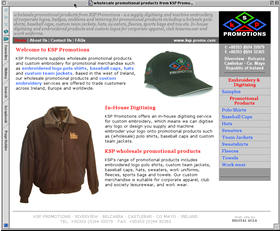 KSP Promotions
A 'brochure ware' site to promote the custom embroidery services of this Mayo-based promotional products wholesaler.
A business-to-business (B2B) Web site that gets straight to the point! The purpose of this site was primarily as marketing support, as a resource to which prospects at trade fairs and exhibitions could be directed. With good search engine optimisation - resulting in top ten Google listings for over a dozen keywords - it has also attracted regular global enquiries and RFQs (request for quotes) for this County Mayo company. All product photography for this Web site was supplied by Digital Acla.
Visit: www.ksp-promo.net