Fast, Accessible Web Site Design
Digital Acla builds usable Web sites that provide fast download speeds, easy and intuitive navigation, and cross-browser/platform compatibility. These features allow more users to access your information more easily, ensuring that your Web site is working harder for you.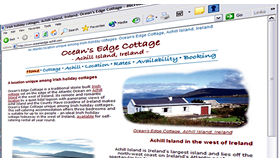 A study reported by Zona Research found that one in three users would abandon a Web site if it did not download within eight seconds. A staggering 70% would leave if the site did not download within 12 seconds. (Source: Zona Research.) In the years since this research the patience of Web users has reduced further, with some claims that wait time is now down to just three seconds.
Digital Acla uses a range of design techniques to ensure that its Web pages are as lean and efficient as possible. By using optimised code, eliminating unnecessary scripts and by the judicious placement of graphics, we create attractive sites that download like a bullet. The average size of 11 home pages so far designed by Digital Acla - including all graphics and external scripts - is 24KB. A page this size should download within four seconds on a 56kbps connection.
Good Web site design takes account of the conditions in which a site will be viewed. Digital Acla designs Web sites that are flexible enough to work across as many platforms, browsers and screen resolutions as possible, with no need for plug-ins, players or other additional software. This includes testing on Macintosh as well as Windows operating systems; it includes testing on Netscape and Opera browsers as well as Internet Explorer; and it includes testing at screen resolutions of 640x480, 800x600, and 1024x768 pixels. We produce Web sites that work for as many visitors as possible, maximising the potential audience for your messages.
Most visitors want information, not entertainment, from a Web site. Research consistently shows that users eschew flashy, slow-loading, 'all bells and whistles' Web sites in favour of straightforward information-rich sites. A study released in September 2001 by Jupiter Media Metrix found that only 20% of respondents would visit a site more often if it had rich media enhancements. 40% said they would visit a site more often if the pages would load faster. And 59% of retail shoppers said they wanted more product information from Web sites. This is why Digital Acla doesn't use unnecessary Flash animations (the 'skip intro' button says it all), doesn't build meaningless 'splash' pages, doesn't use slow-loading Java applets - we just build simple, effective, fast-loading pages that present well-ordered and well-written content. End of story.
In order to index a site and evaluate its content for ranking purposes, a search engine will send an agent (usually called a bot or a spider) to crawl the pages of that site. The way that a site is constructed can either help or hinder this process. Web sites that use frames, lots of Javascript, graphics rather than text, or over-rely on Flash content all pose problems for search engine spiders. A useful tool to assess how spider-friendly your Web site design is, is provided online at Delorie.com. Digital Acla builds pages that are easily spiderable by the search engines, ensuring the best possible conditions for a good ranking.
These are some of the books on Web site design, usability, and other Web issues that we use and like:

Defensive Design for the Web: How To Improve Error Messages, Help, Forms, and Other Online Crisis Points
From the outstanding 37 Signals design agency, this book offers tips and advice on how to deal with user crisis points on your Web site.

Designing With Web Standards
By Jeffrey Zeldman. The author is a leading expert on Web standards and building accessible Web sites.

More Website Design Books »